It goes back to adolescence
I began playing guitar in 1964 when I was in junior high school and was mesmerized with the music of Ray Charles, Chuck Berry, the Kingsmen, the Beach Boys, and especially the Beatles and all the British invasion bands they brought with them. Of course, I was no different from anybody else my age who went to school with me. We argued over whether the Dave Clark Five was as good as the Beatles, whether John or Paul was the "coolest" Beatle, and whether the lyrics to "Louie Louie" were obscene or simply unintelligible. I was lucky to be influenced musically in two other ways. First, my mother had a handful of jazz LPs that she played constantly after we bought a nice stereo in the early 60s. During those years I was exposed to the likes of Louie Armstrong, Dave Brubeck, Bill Evans, Ella Fitzgerald, Stan Getz, and Cal Tjader. Second, I had an older sister who was being courted by the boy next door who was a folk music enthusiast, and would bring over Kingston Trio, Ian and Sylvia, Pete Seeger, Mimi and Richard, Josh White, Peter, Paul and Mary, and similar music to play on the same stereo.
My friends and I started making up our own lyrics and melodies in high school (usually with immature themes that we would only perform in front of friends of the same gender and age) and I began writing songs on my own seriously shortly thereafter. Now that I'm retired I'm devoting more time to writing and recording new songs for my own entertainment as well as going through many of my old songs to see if they still hold up. I might go to the trouble to re-recording them, with no end in mind except having fun. As a musician and songwriter I doubt that I've ever made enough money to cover the cost of the strings I've put on my guitar and at this point I know I never will, but as I've gone through two marriages, raised children, moved from city to city in the west and southwest, experienced employment both frustrating and satisfying, and enjoyed many friendships, I have always had music and my guitar to enhance the quality of my life (and perhaps, sadly, in some cases create distance between myself and others).
And Continues Past Middle Age
In March of 2015 my wife, Leslie, died from glioblastoma multiforme, a deadly type of brain tumor. She was a mandolin player who loved all kinds of music, and together we spent many hours playing and singing. One of the ways I coped with my grief was to become involved with the Acoustic Music Community, participating in open mics around town and joining jams and song circles hosted by various people in their homes. I made many good friends through these activities, and received encouragement to keep playing guitar, overcome my reluctance to perform in public, and continue writing songs. I'm grateful to George Spataru who booked several gigs and invited me to join him along with Ed Connors and Ruth Price, who together formed the duo Eclectic Rendition, to come up with over three hours of songs. Later Joel Kaplow, a great keyboardist and singer, joined the group, along with Sawyer Ward, a beautiful singer who also plays the auto harp and harmonium, and we played two different three-hour sets at La Dolce Vita in Old Towne Arvada. Joel, Sawyer, and George were regular performers at the Swallow Hill Hootenanny, hosted by Harry Tuft, and I soon started joining them performing on the first Friday night of each month. Swallow Hill also holds an open Stage once a month, hosted by Ed McIlvain, where I began to perform short sets from time to time. I also began to attend open mics at the Front Range Brewery in Lafayette on Tuesday nights. These were hosted by Jeff Ulrich initially and later Stevie D (don't know what the "D" stands for). I attended many fun meet-ups hosted by Marisa Marinac and Michael Horwith, and for a while was in a duo with Roberta Holbrook, a much more talented musician and singer than I am. Before the pandemic I performed a few songs at the Hootenanny with friends, and now that things are opening up hope to do a lot more with other musician friends. Until they were suspended due to the corona virus Swallow Hill offered a wide range of classes and ensembles. I was participating in a bluegrass ensemble led by Martin Gilmore and a guitar class taught by Thomas Jennings, both of which were halted in progress when shelter-in-place instructions came down. I'm also grateful to Jason McIntyre for leading songwriting workshops through Swallow Hill.
And Now . . .
Now, in retirement, and at the time of this writing during the COVID-19 pandemic, the relationship with music and my guitar is more important than ever. I've come across several online resources that keep me entertained as I remain isolated in my home. Marcel Ardens has a web-based program for bluegrass guitar, and I've found an app called Strum Machine that allows you to download backing tracks or create your own for practicing instrumental solos. Using Strum Machine I've been practicing some standard bluegrass fiddle tunes, including Angeline the Baker, Red Haired Boy, Blackberry Blossom, Cherokee Shuffle, Sailor's Hornpipe, Saint Anne's Reel, Salt Creek, and Whiskey Before Breakfast.
As summer draws to a close . . .
Zoom has proves to be a great resource for keeping musicians collaborating during the pandemic. I host a weekly song circle and am a guest on another. Ed McIlvain has resumed his Swallow Hill Open Stage via Zoom, and Harry Tuft has started up the monthly Hootenanny again using Zoom. The only drawback is that it requires a certain investment in a digital audio interface to get decent audio quality, but it is possible to make it work with just a cell phone, iPad, other tablet or built-in computer audio. Some audio quality is sacrificed, however without a little more investment in audio hardware. But since it looks like we won't be playing music together in larger gatherings any time soon, it might be worth it.
As a new summer approaches . . .
It really looks like things are opening up again. Last Monday, May 24th, for Bob Dylan's 80th birthday, eTown held what they called a soft reopening, and asked 20 musicians to each perform one Dylan song. I was lucky enough to get to sing "Blind Willie McTell." Tonight, May 29th, the duo Eclectic Rendition, made up of my friends Ed and Ruth, are performing for a happy hour. We held an outdoor jam at a park last Wednesday, and in the past two weeks I've attended two song circles at people's houses. Open mics are beginning again at local brew pubs and coffee houses, and concert venues are booked again. Below are photos taken at eTown on the 24th.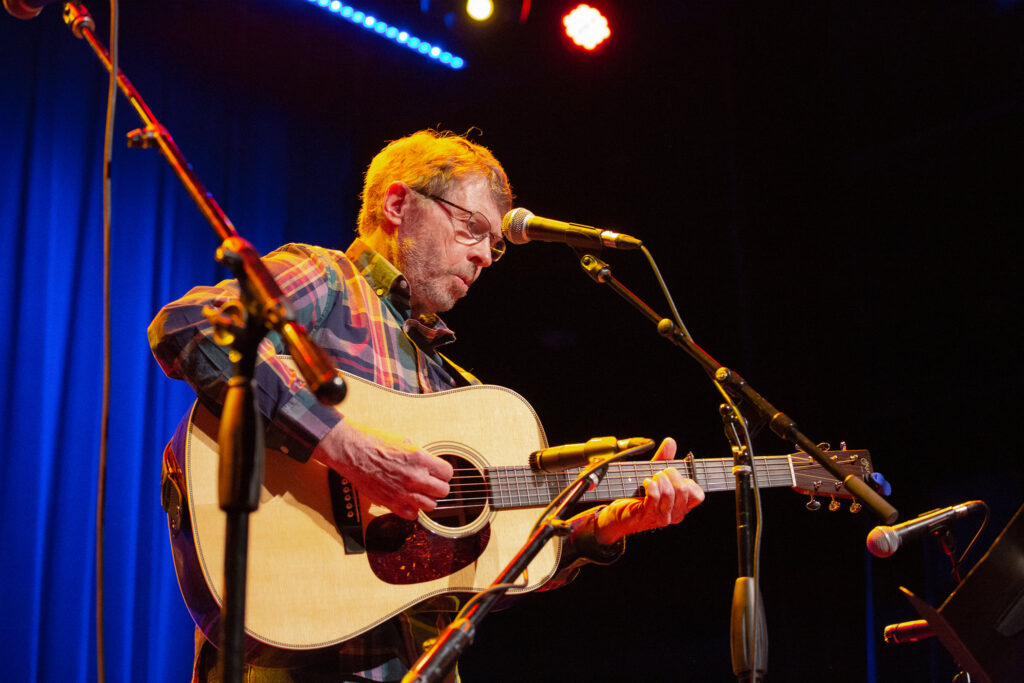 All the songs available on the songs pages are my original compositions, performed and recorded by me on ProTools. My name is Michael Shainline. I can be contacted at [email protected].